From monitoring vital stats to viewing your favorite shows – all you need is a trusted iOS mobile app to enjoy the luxuries of life.
The global market share of Artificial intelligence (AI) will cross $89 billion by 2025. iOS app developers have been using AI in mobile app development to make their applications more intuitive and intelligent.
As of 2021, 76% of companies in the global market prioritized AI and ML in their IT budget.
Around 48% of all businesses use AI in some form to use big data.
Fresh insights from data.ai show that US consumers are ready to spend $33 billion on applications during the second quarter of 2022. iOS app consumers are leading the parade.
It is the perfect time for app owners and iOS developers to integrate AI into their iPhone and iPad applications.
Integration of AI helps the owners and marketing team understand user behavior. AI can help your team understand buyer preferences and customer journeys. It will enable you to use machine learning (ML) to enhance consumer engagement and retention.
Now, let's see the 7 ways AI has impacted the development of iOS applications
1. Enhancement of Search Performance
In-app search functions are crucial for eCommerce apps. iOS apps that use AI and ML to build an application show improved customer experience and retention.
Hire iOS developers with experience in integrating AI and ML. These technologies can enable voice recognition, image recognition, and voice-activated search within a mobile application. Take a leaf out of Google's innovations. Google Lens can recognize images and suggest similar images, products, solutions, and other details based on the image.
Incorporating an AI-powered search is helping iOS apps cater to a broader customer base. It's a proven way to improve customer experience and enhance conversion rates.
2. Recognizing and Learning Behavior Patterns
AI-powered iOS apps can track the user's behavior patterns. It can map the topics, CTAs, and options the user most commonly uses. Using a combination of AI and ML, your app can make sessions more intuitive and smooth.
For example, consider Snaptravel. It is a hotel booking service with a twist. Snaptravel is powered by AI bots and humans equally. The user can have natural and realistic conversations with the bots. Yet, if the chatbots fail to understand a query a human agent takes over. The app has achieved this using natural language processing (NLP) and machine learning (ML).
AI enables an iOS to reach the next level of human-ness through simple yet significant changes in the app development process.
3. Powering Automated Reasoning
Have you ever wondered how Uber riders find the nearest driver? Or how you always receive the shortest route to your destinations. They use AI-powered automated reasoning. Uber has collected data from the thousands of drivers who have driven similar routes.
The app processes this data using AI. Next, logical reasoning churns out information to help the consumer book rides. The app also uses AI to make predictions such as estimated fare, expected time of arrival, and more.
Several dedicated iOS apps are now integrating AI-powered data collection. It enables logical reasoning that offers users a smoother user experience. You should only hire iOS developers who have previous experience working with AI if you want similar results.
4. Intelligent Recommendation Services
Let's say you are trying to order Thai for dinner on a food delivery app. The restaurant you pick closes early, and the app keeps suggesting Mexican and Indian food joints instead. Would you feel satisfied? Wouldn't you rather look at other Thai places near your location?
That's where intelligent recommendation comes in. When you want your users to stay longer and use your app repeatedly, you need to give them what they are searching for. Now, your app needs more than a database of products or services to churn out viable options for the users. Your app needs the "smart thinking and decision-making" power to suggest options and alternatives to your users.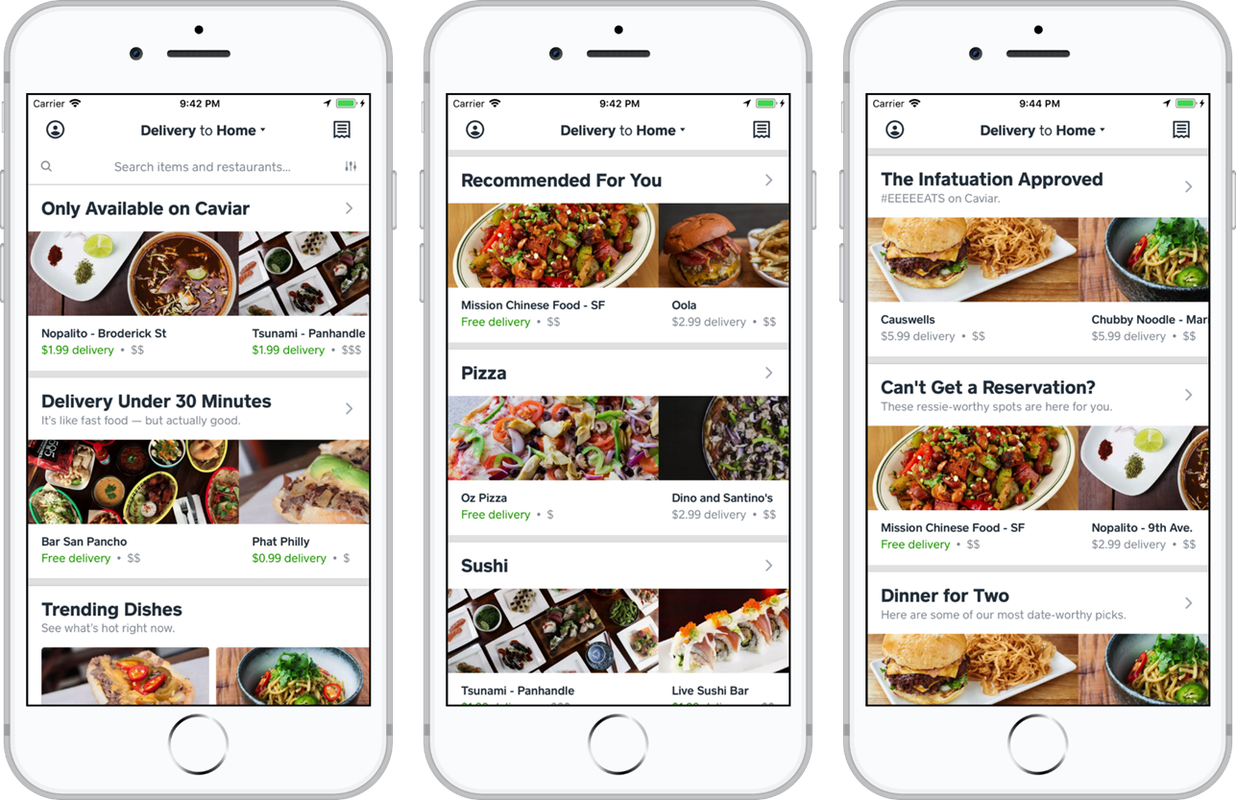 The only way to achieve that is by hiring an expert iOS app developer team. This team should be able to integrate AI seamlessly into your app. With AI you can gather all necessary data on your user's preferences. Next, you can put it in the learning algorithm and create recommendations for your consumers. It will help you upsell and cross-sell your products and services to buyers.
That is exactly the kind of AI that makes Amazon, Netflix, and Prime Video so popular and successful.
5. Employing AI-Powered Chatbots
One of the biggest boons of AI is chatbot functions in iOS apps. Several mobile apps are already using this feature to increase consumer engagement. The AI-powered auto-responses are natural, contextual, and valuable. The conversations help the marketing and sales team. They can learn about the consumer's queries, product preferences, and purchasing powers. Additionally, it makes the consumer feel valued.
It will save your company hundreds of thousands in the long run. You won't have to hire a dedicated customer services team to answer consumer queries 24/7. The AI-powered chatbots can keep the consumer engaged until it is time for an expert or engineer to intervene.
6. Enhanced and Humanized Auto-Reply Functions
AI can help your app "talk" to the customer using auto-reply functions. It sets up a two-way communication pathway between your consumer and your app. Customers want responses, and they want them immediately! Automated responses can generate the correct reply to customers without human intervention.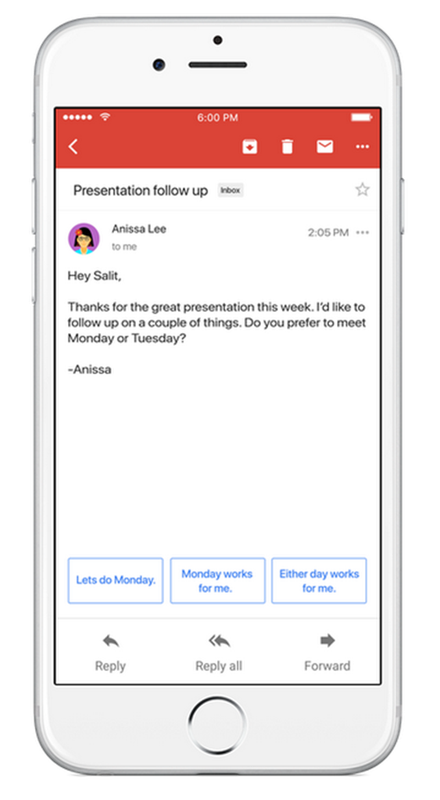 Some of the most common auto-replies iOS apps now use are, "Thank you for your question. We'll get back to you soon," "We will contact you ASAP," and "Thank you for contacting us." Some responses include a list of alternative methods customers can use to communicate with a particular team. Yes, these responses seem minor. But they make a significant positive impact on the customer.
Google has incorporated Smart Reply into Gmail. For example, let's say you receive a message from an individual or organization. The smart reply suggests responses according to the content and context of the email.
7. Reliable App Authentication Functions
AI has a significant impact on iOS app user authentication and security. It is beneficial for both the developers and consumers.
The incorporation of AI into iOS apps can notify the developer and management team in case of user behavior discrepancies. A combination of AI and ML can reduce the vulnerabilities of the application. That will decrease the threat of security threats.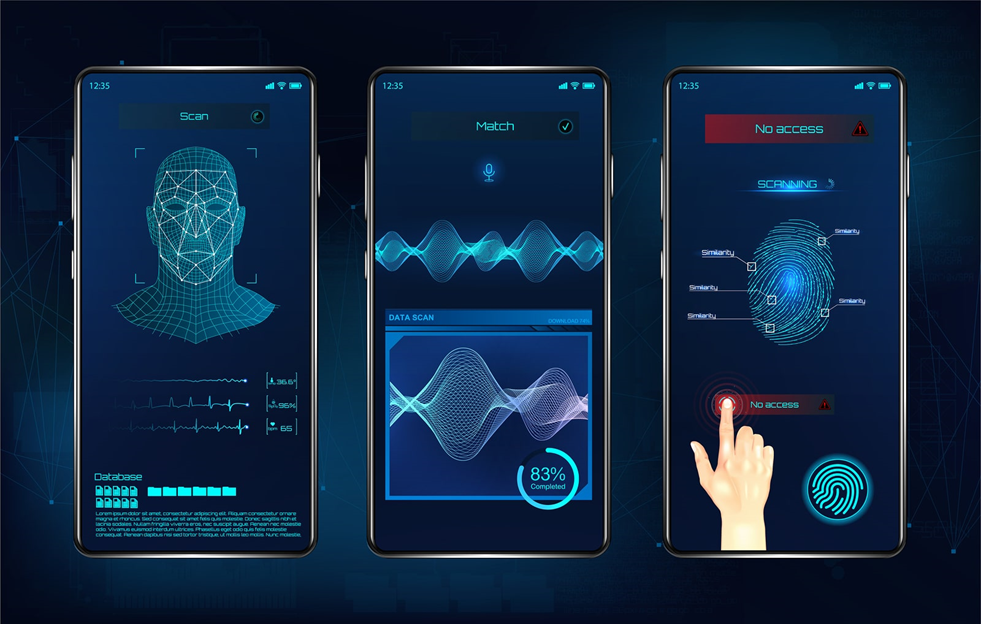 The consumer data, including their passwords, credit cards, and bank details remain secure. It enhances the user experience and contributes to the positive reviews of an iOS mobile app.
Always hire iOS developers who have worked on similar projects. Check their portfolio thoroughly. Verify the mobile applications in their resume before you hire an iOS developer team.
Conclusion
AI-enabled systems sound expensive and complicated. Nonetheless, these are necessary investments for all the benefits iOS apps enjoy. iOS app developers are integrating AI to automate a significant part of the app development process. It also enhances the in-app functions post-deployment.
Unless you have experience in iOS app development and AI integration, it is better to contact an iOS development team.